INSTAGRAM
FACEBOOK
TWITTER
SUBSCRIBE TO SHATAGHANA TV
JOIN OUR WHATSAPP GROUP
Ghana has always been one of the few countries where her citizens does not spare a person and are free to blast or rain all sorts of words upon a person who does something that really pains and burns the heart of the people.
Rosemond Brown, popularly known as Akuapem Poloo was dragged to court for releasing a photo that goes against the rights and the will of the Constitution of Ghana. She was jailed to spend 90 days in jail which is equivalent to 3 month.
Today, the man in hot shoes is the main man who dragged Akuapem Poloo to court, Ghananains are really raining all sort of words upon the man for doing his job. He goes by the name Bright Appiah.
Not long ago, there was a post on Facebook in a group where someone posted a link from one website where the post asked the readers to read more about the man who dragged Akuapem Poloo to court in other for her to be jailed for 90 days.
READ
Too much noise and rubbish in Ghana music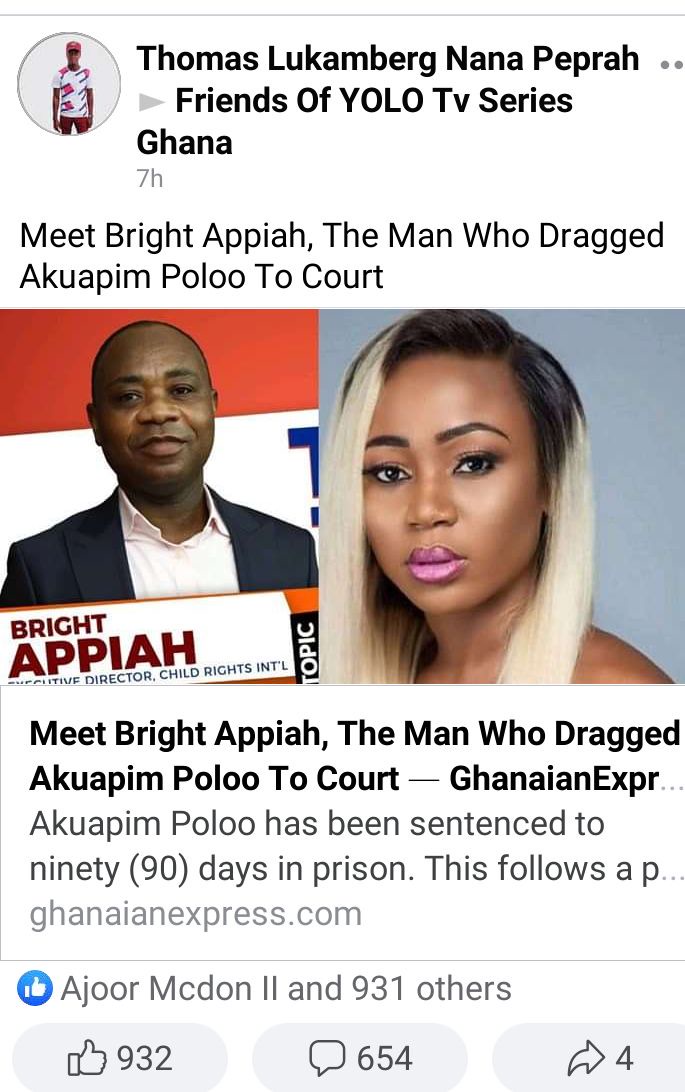 This post really attracted many comments from Ghanaians on social media, one comment which was really dominating everything was the part where people were saying that the man proposed to Akuapem Poloo but the actress rejected his proposal that's why he did such a thing.
Let us take a look at some of the comments below where people were raining all sort of words on the man.