INSTAGRAM
FACEBOOK
TWITTER
SUBSCRIBE TO SHATAGHANA TV
JOIN OUR WHATSAPP GROUP
A list of possible Chief Executive Officers to head the various government institution has dropped. In the list, former Deputy Information Minister, Pius Enam Hadzide and Mustapha Hamid, the former Minister for Inner City and Zongo Development have all grabbed different positions.
Whilst Mr. Pius Enam Hadzide has been appointed to head the National Youth Authority, Mr. Mustapha Hamid is tasked to lead the National Petroleum Authority.
Chief Executive Officers of State institutions are appointed as part of the governance processes to ensure maximum performance in their various companies.
Most of these positions are political and the sitting President appoints competent people to lead.
In the new list that is making rounds, Mr. Boahen Aidoo has been retained as the Chief Executive Officer for the Ghana COCOBOD whilst Eric Nana Agyemang Prempeh has been given the role as the Managing Director of the National Disaster Management Organization (NADMO).
At the Nation Builders Corps (NABCO), Dr. Ibrahim Anyas has been maintained with Mr. Francis Adomako heading towards MASLOC.
Lawyer Justin Kodua has been given the role of the Chief Executive officer of the Ghana Free Zones Board with Kwaku Tabi Amponsah grabbing the position as the Chief Executive Officer of the Ghana Post.
The Driver Vehicle and Licensing Authority (DVLA) has been left in the hands of Akwasi Agyemang Busia whilst Lawyer Frank Agyen is the new Chief Executive Officer for the Ghana Cylinder Manufacturing Company.
Mr. Edwin Provencal is the Managing Director for BOST and Kwame Osei Prempeh is taking over the role as the Chief Executive Officer of GOIL.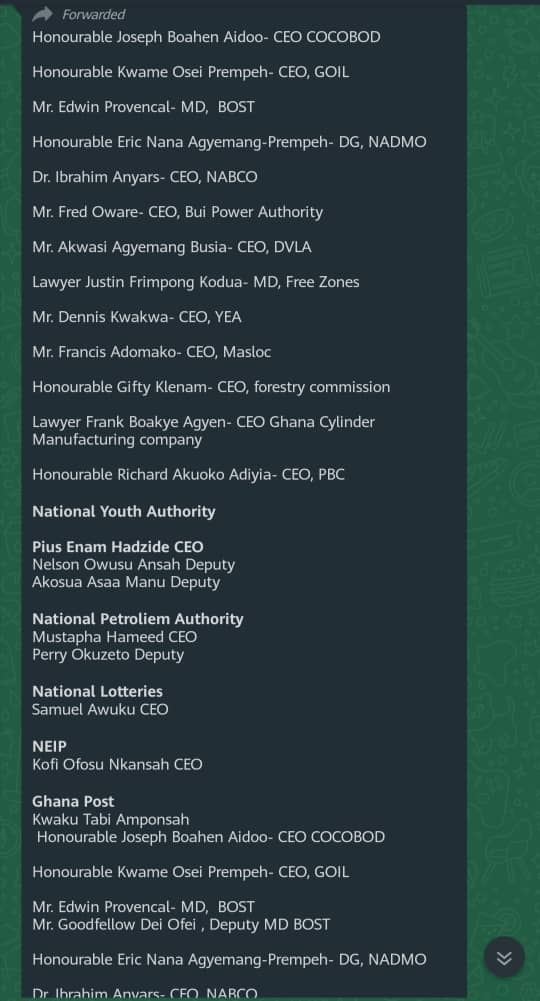 The list has not been confirmed by Mr. Eugene Arhin, who is the Director of Communications at the office of the president, however, some members of the NPP are already jubilating over it.
It is unknown if the same list will be officially presented to the public in the coming days.
The President, Nana Addo Dankwa Akufo Addo has already appointed Ministers who will be heading the various ministries.
Names of their Deputies have also been released and are waiting to appear before the Appointments Committee of Parliament.